{service.name}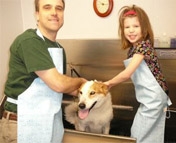 Dog Wash
Come visit our self-serve dog wash! Enjoy the pleasant atmosphere in our brand new spa-like space just for your pooch. Cleaning your pet has never been easier!
Open every day! We accept walk-ins but by appointment is always recommended.
Monday - Friday: 8:00am to 5:15pm
Saturday: 8am to 4:15pm
Sunday: 9am to 3:15pm
Rates are $15.00 for a half hour of service for one dog or $24.00 for a half hour of service for two dogs. There is an additional $6.00 fee for every extra 10 minutes of unscheduled time if time allows. Late arrivals may lose reserved time if appointments are scheduled after.